Articles and Reviews
Art of the West July/August 2014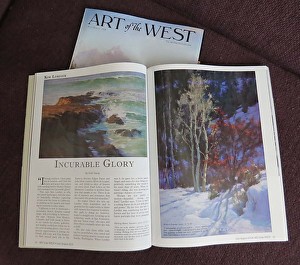 Incurable Glory by Vicki Stavig https://www.aotw.com/#/article/186
Half Moon Bay Review January 2012 Cover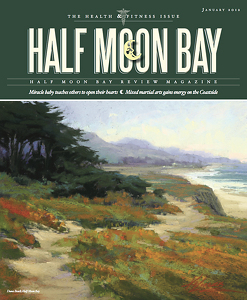 Bill Murray Publisher- http://issuu.com/wickcommunications/docs/half-moon-bay_jan2012?mode=window&backgroundColor=%23222222
Southwest Art Magazine June 2011 Cover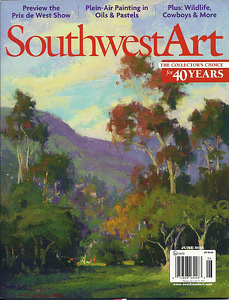 Windows to Grandeur by Bonnie Gangelhoff
---
Plein Air Magazine Spring 2011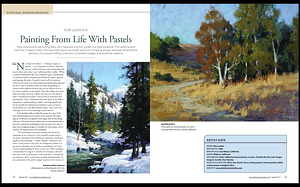 Painting from Life with Pastels by Stephen Doherty
---
The Pastel Journal February 2011 Cover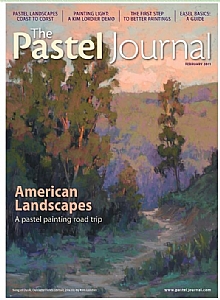 The Light Fantastic: a Demo by Kim Lordier
---
American Art Collector June 2010
The Pastel Journal August 2010
American Artist Magazine June 2009
American Art Collector April 2009
Striking Gold CAC's 98th Annual Gold Medal Exhibition

Southwest Art Magazine February 2009
Let it Snow- Eight Artists Capture the Quiet Beauty of Winter Landscapes

The Pastel Journal April 2008
The Years Best Art
The Pastel Journal December 2008
Hanging Tough by Deborah Secor
Western Art Collector October 2008
Yosemite on Canvas- Thirteen Western Artists Paint the Park
The Pastel Journal June 2008
CALIFORNIA GOLD by Kim Lordier

The Pastel Journal April 2007
KIM LORDIER Working in the Field Illuminates a California painter's Landscapes by Jessica Canterbury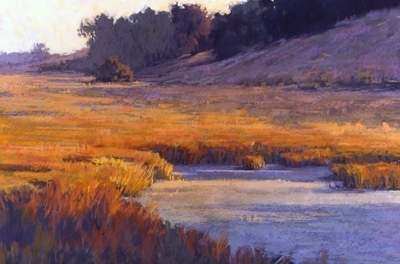 ---
American Artist Magazine March 2007

When to be Critical, When to Let Go by M. Stephen Doherty

Californian Kim Lordier has succeeded by pushing herself to create better and more original paintings with pastel and by stopping herself from rendering photographic detail. "I had to gain enough confidence to make marks that expressed what I wanted to say about a subject, and then walk away from the painting before I overworked it," she explains.....

http://www.artistdaily.com/blogs/pastel/archive/2007/04/16/kim-lordier-when-to-be-critical-when-to-let-go.aspx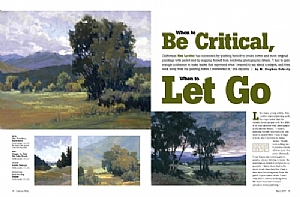 ---
Fine Art Connoisseur Nov/Dec 2006

Artists Making Their Mark: Three to Watch, Discover-and take note of- the immense talents of the contemporary artists, Kim Fancher Lordier, Rob Matthews, and Roseta Santiago.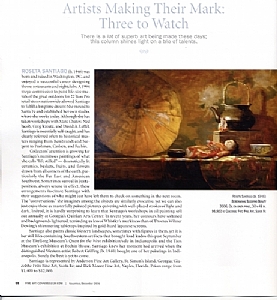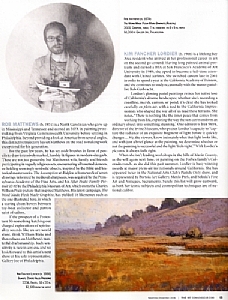 By Peter Trippi
Kim Fancher Lordier (b. 1966) is a lifelong Bay Area resident who arrived at her professional career in art on the second go-around. Having long painted animal portraits and earned a BFA at San Francisco 's Academy of Art University in 1989, she opted to become a full-time attendant with United Airlines. She switched careers late in 2001 in order to spend a year at the California Academy of Painters, and she continues to study occasionally with the master pastellist Bob Gerbracht.

Lordier's glowing pastel paintings evince her native love of California's diverse landscapes; whether she's recording a coastline, marsh, canyon, or pond, it's clear she has looked carefully en plein air, with a nod to the California Impressionists who shaped how all of us read these terrains. She notes "There is nothing like the inner peace that comes from working from life, exploring the way the sun can transform an ordinary object into something stunning." One admirer is Jean Stern, director of the Irvine Museum, who praises Lordier's capacity to "capture the radiance of an exquisite fragment of light before it quickly changes …We, the viewers, know intimately what that light looks like, and with just a brief glance at the painting, we determine whether or not the painting is successful and the light 'feels right.'" With Lordier's pictures, it always feels right.
When she isn't leading workshops in the hills of Marin County, as she will again next June, or painting on the Forbes family's Colorado ranch, as she did this past summer, Lordier is busy winning awards at major plein air invitationals around California. She has appeared twice in the National Arts Club's "Pastels Only" show, and is represented by Nash Gallery (Crockett); Portola Art Gallery ( Menlo Park ); and Sekula's Fine Art and Antiques ( Sacramento ). Surely this list will grow eastward, as both her iconic subjects and cosmopolitan techniques are of national calibre.
Southwest Art Magazine January 2006
Artists to Watch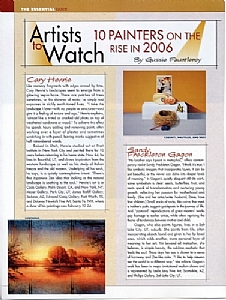 By Gussie Fauntleroy
KIM FANCHER LORDIER- Like many Americans, Kim Fancher Lordier took the events of September 11, 2001, as a signal to reassess what was meaningful in life. The answer was art, and as it happened, her art was about to undergo a major shift. She stepped away from her career as a flight attendant to focus on painting in pastel, a part-time pursuit since age 15. A graduate of the Academy of Art University in San Francisco, she'd been creating animal portraits for a number of years. But within weeks of 9/11, she attended a demonstration of plein-air painting-and knew that's what she wanted to do.
Since then, the 39-year-old from the Bay Area has shown her luminous landscapes at several museum shows and the National Arts Club in New York City. She won the Artists' Choice Award at both Sonoma Plein Air 2005 and the Napa Valley Museum Plein Air Biennial 2005. Observes Jean Stern, Executive Director of the Irvine Museum, "To me, the ability to portray the convincing effect of true natural light is the noblest calling of a landscape painter. Kim has earned my respect."
For her part, Lordier is inspired by the early California Impressionists and passionate about capturing a magical sense of light and holding it, a she says, "just a moment longer than Mother Nature intended." Her art is represented by Firehouse Gallery, Sausalito, CA; Sekula's, Sacramento, CA; Epperson Gallery, Crockett CA; and
www.kimfancherlordier.com
.
---
The Artists Magazine
February 2006 Young Artists on the Rise "20 Under 40"
Plein Air Magazine

September 2005
En Couleur
The Pastel Journal
October 2005
Art Matters
Out & About Magazine
November 2005
Artistic Licence A Balancing Act between Family and Career by Angie Young


The Pastel Journal
December 2005
Artist and Mother by Deborah Christensen Secor

The Pastel Journal
April 2005
The Years Best Art

The Pastel Journal
April 2004
The Years Best Art
For a wonderful newletter that spans the globe please go to: www.painterskeys.com. The Robert Genn Twice-Weekly Letter.
---